Weddings
Wedding Venues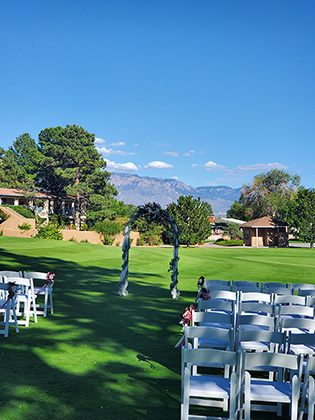 The event center at Paradise Hills has two venues to accommodate small and large weddings:
Overlook Room holds up to 48 guests
Fairway Room holds up to 250 guests
The Overlook Room and Fairway Room can be joined to create one large hall that accommodates nearly 300 guests.
Our venues are ideal for all your wedding-related events, including:
Bridal or couple's shower
Engagement dinner
Rehearsal dinner
Wedding ceremony
Wedding banquet or reception
Every venue has access to our outdoor patio, and our golf course affords breathtaking views of the Sandia Mountains and Albuquerque's skyline for your wedding photos. (Please speak to your event coordinator to get pre-approval for on-course photos before your event.)
Wedding Services
Part of what makes Paradise Hills Golf Course the ideal wedding venue is that we offer more than just space. All event venue rentals include:
Tables and chairs
Dance floor (if applicable)
Decorating time before your event
Use of the bridal suite
Use of any item in our decoration closet
Wedding catering is provided by our chef at The Office.
Your event coordinator will help you select the wedding package that best meets your needs and budget.
Wedding Planning
All wedding venue rentals include event coordination service provided by our certified event coordinator. She will ensure that your wedding venue is properly arranged and help coordinate floral, bakery and other deliveries. If you need more assistance, please ask our coordinator for wedding ideas and/or recommendations for a reputable wedding planner.
Please contact us to schedule a tour of our wedding venues and learn more about our bridal packages and services.
Weddings Request
Your wedding is an event to celebrate and the more the merrier! Paradise Hills Golf Course offers the space, amenities and services to accommodate large weddings.
LARGE WEDDING GUEST CAPACITY
Paradise Hills Golf Course can accommodate large wedding ceremonies and receptions. Seating capacities are as follows:
Outdoor ceremony: 150 chairs (additional seating is available for an extra charge)
Fairway Room: 250 guests
If your group exceeds the Fairway Room's maximum capacity, you may also rent the Overlook Room, which can be opened to create a larger venue that can accommodate up to 298 guests.
CATERING OPTIONS FOR LARGE WEDDINGS
The experienced catering staff can handle food preparation and service for large groups. There are no size limits for any of our wedding reception packages, so plated meals or buffet-style dinners are available for large weddings.
Our event coordinator can help you explore your wedding catering options to help you find food and beverage selections that fit your wedding style and budget.
BOOK YOUR LARGE WEDDING
Because large weddings may require booking two event venues, we encourage you to book as soon as possible. Contact us to schedule a visit to our event center and ask about our wedding menu tastings.
For couples who want to limit their wedding ceremony and/or celebration to their closest family and friends, Paradise Hills Golf Course is perfect for your small wedding party. We have venues ideally suited for small groups to create an intimate event that is every bit as elegant and enjoyable as a large wedding.
CREATING A SMALL, INTIMATE WEDDING EXPERIENCE
Paradise Hills Golf Course can accommodate all types of small wedding events — showers, rehearsal, reception and farewells. Keeping all wedding events in one location reduces planning and coordination hassles and allows you and your guests to get comfortable in our picturesque atmosphere.
Small wedding ceremonies may be held indoors or outdoors, and for small wedding receptions, we often recommend:
Overlook Room, which seats up to 48 people
Both venues offer a cozier atmosphere that still provides ample space for buffet-style serving (if desired) and dancing.
SMALL WEDDING RECEPTION PACKAGES
The size of your wedding ceremony and/or reception venue does not limit your options for catering options. Any of our wedding reception packages may be selected and/or customized for small weddings.
Regardless of the size of your guest count, all wedding venue rentals include wedding coordination service.
Contact us to learn more about our packages and services and schedule a tour of our event center. We look forward to booking your small wedding soon!
With more than 300 days of sunshine every year, there is no better outdoor wedding location than Albuquerque, New Mexico. Whether you choose the Paradise Hills banquet hall or want to be married on our greens, you and your guests will spend a memorable day together amidst picturesque settings.
CUSTOMIZABLE WEDDING PACKAGES
Paradise Hills offers several customizable wedding packages to accommodate both small and large weddings with up to 295 guests. Each wedding package includes a dance floor, cake cutting, security, setup and cleanup.
PROFESSIONAL OUTDOOR WEDDING COORDINATOR
From simple to elaborate, Paradise Hills works with you to bring your vision to life. We have a certified event coordinator onsite who is able to assist you in every aspect of making your special day with us perfect. Our event coordinator comes at no additional cost, so you can be assured that your ceremony and reception are a success.
SAVORY WEDDING CATERING
The meal at your reception should complement the feel of your wedding. Whether you'd like a formal plated dining experience or a more social buffet, Paradise Hills helps you create an ideal menu to celebrate your marriage with friends and family. We have an assortment of wedding catering packages, as well as an a la carte menu from which you can build your own package.
BEAUTIFUL BANQUET FACILITIES
Included with any wedding package is full-venue decor design and table linens in our elegant banquet room with breathtaking views of Albuquerque's city lights. With stunning views of the Sandia Mountains as your backdrop, Paradise Hills is one of the most beautiful locations for an outdoor wedding. Please contact us to schedule a time to view our grounds, and meet with our event coordinator to discuss how we can best meet your needs.
With more than half a century in Albuquerque, the wedding banquet hall at Paradise Hills has a proven tradition of quality and elegance. Our wedding banquet staff is prepared to handle even the most specific tastes so you have a memorable wedding specific to your style.
THE FAIRWAY ROOM
The Fairway Room at Paradise Hills features cathedral-style windows that provide enchanting views of the Sandia Mountains and downtown Albuquerque. The Fairway Room features:
Seating for 295 people
A full-service bar
A patio for cocktail hour
If you are planning an outdoor wedding ceremony, have peace of mind that you can hold your ceremony inside our Fairway Room in the event of inclement weather.
ELEGANT WEDDING SERVICES
We believe that every client deserves options when planning their special day. For that reason, we have a certified event coordinator on staff who can help you assemble a custom wedding package to best fit your vision.
We are personally involved throughout your entire event, assisting in coordinating with your other vendors to keep the event flowing on the big day. Our wedding services are tailored to your style, so you can have an affordable, intimate affair or a splashy, million-dollar wedding.
PROFESSIONAL WEDDING CATERING
Our wedding catering is one of the best kept secrets in Albuquerque. We strive to fit every bride's unique budget, whether it's exceptional food at a reasonable price, or providing all the exceptional details for a spectacular once-in-a-lifetime event. We have an assortment of wedding catering packages, as well as an a la carte menu from which you can build your own package.
See our wedding banquet hall for yourself. Contact us today to schedule an appointment with our event coordinator.